Anne Meree Craig, The COMMIT Foundation
Join our platform to access business grants, capital, and growth resources.
Anne Meree served as a civil servant deploying around the world in direct strategic and operational support to the Department of Defense and Intelligence Community. In 2010, after having her second child, she left the government and founded Maxemi LLC, a consulting business aimed at relationship navigation, strategy development, and research. She has worked as the Chief Administrative Officer at McChrystal Group and as the Director of Strategic Initiatives at Berico Technologies. Her clients included Deloitte and General Dynamics. Anne Meree feels blessed to have not just served at the tip of spear but to also have married into it. She believes it provides her a unique understanding for the work she currently does at COMMIT. Anne Meree is gifted at connecting dots in creating serendipity for our veterans and works to grow the enduring relationships necessary to enable real success.
Q: If you were to explain who you are and what you do in a couple of sentences, what would you say?
A: I am the Mom of Three, the Wife of One, and the CEO and Co-Founder of The COMMIT Foundation, an organization focused on creating serendipity for Post 9/11 Veterans by helping them identify their values and passions, build stronger networks, and leverage their skills outside of the military.
Q: Tell me more about The COMMIT Foundation and your programs?
A: COMMIT's Co-Founders were blessed to serve in the Department of Defense and the Intelligence Community. We built technology, deployed as analysts, and supported special operations task forces. I saw a great deal of talent, when it came time for them to leave the military, defaulting to careers in defense contracting and government. So, The COMMIT Foundation set out to create programs for these men and women to explore their passions and design lives that were equally as meaningful to them after their time in uniform. We NEVER dissuade continued service.
At The COMMIT Foundation, our mission is to ensure the 1% that defend our Nation find purpose both personally and professionally after military service. We conduct mentoring workshops all over the country. We provide one-on-one transition assistance where solutions are built around individuals. Our programs are open to men and women of all ranks and services. We screen candidates based on one's desire to invest in themselves, and the process.
Outside of veteran-facing programs, we also build programs for academic institutions and companies to help educators and employers understand veteran talent and integrate that into programming. Our academic and corporate work allows us to diversify profit. Delivering world class services in a "non-profit" environment takes grit and we have it. We do not tolerate mediocre programming or ego in the space. The COMMIT Foundation finds its North by focusing on those who serve. Only 1% of our country defends the way the rest of us live. They deserve to be happy after wearing the country's cloth.
Q: Who inspired you in taking this path?
A: As far as my inspiration, I would argue that it was all the amazing men and women with whom I had an opportunity to serve. On a very personal level, The COMMIT Foundation came from my own family's journey. My husband served in the military and like many, defaulted to a career in government work and felt unfulfilled. He was not happy when he came home every day. I was looking for solutions to make my own family life better and through serendipity and purpose, I've built an organization that's affecting thousands of people every year.
Q: When you think back to when you decided to take the leap and create The COMMIT Foundation, was there anyone in particular or an event that happened that helped you take that leap or believed in you and encouraged you to do this?
A: I'd have to say my co-founder Guy Filippelli is the person who inspired me to take the leap.
I was blessed to meet him in 2007 while I was in Iraq and he was serving in the Army at the National Security Agency Headquarters. Our friendship grew as he became a successful veteran entrepreneur.
After an exit from one of his start ups, he asked me to assess the veteran service space to see where he should give philanthropically. He truly opened that door for me to do consultation work in the veteran space. I wrote a paper about the problems I saw and he challenged me to do something about it. He helped me get the organization off the ground. Guy is now the Chairman of COMMIT's Board of Directors. Guy and I usually see eye-to-eye on veteran issues and national security issues. Whenever we put our minds together on either one of those topics, we can truly make a dent in those two universes.
Q: That's great. You're so lucky to have that, too. Okay, as you started going with The COMMIT Foundation, what was the moment you knew that it could be successful? Was it right away? Did it take some time? Have you arrived there yet? Tell me a little bit about that.
A: I've always been really taken back and humbled by the brands and organizations that have supported us since our inception. Very early on, we were blessed to have Andreessen Horowitz, Stanford Graduate School of Business, Guggenheim Partners and several other world class organizations that wanted to partner with us because of our results. We attracted top-tier participants, delivered impactful programs and engaged with local mentors from the business communities. The feedback about our programs has always been incredible.
We started the organization in 2012, and a few years in I realized that as long as we were creating value, we would find people who would fund our programming. We are a 501(c)(3), a non-for-profit organization. There's a lot of mediocre organizations in the veteran services space and a lot of ego leading those organizations as well. I reminded myself to stay focused on the service member and keep my head down and hustle, I'm always amazed at the outcome when I do that.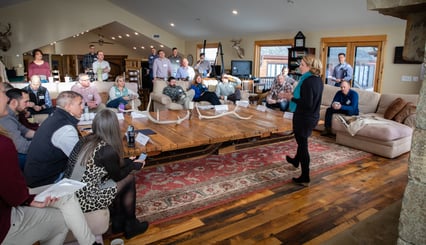 I always had this optimistic approach; if I was giving to the universe, the universe was going to give back. Over the past eight years, I have stayed tremendously focused on who we're serving and have not let "program-creep" or dollars that would require us to deviate from our mission ever lead us off course. I think that focus has really kept us on track and allowed us to grow.
There are certainly moments where big investors have been a part of this; one of my favorites was Laura Andreessen, who's just a powerhouse in the philanthropic space. I did a webinar with her and she asked me to share my story. After the my presentation ended, she got up, hugged her computer and said, "I want you to know when you're doing the right things, the right people are going to come in your life at the right time." Andreessen Horowtiz has been a partner of ours since 2012 and the Mark and Laura Andreessen Family Foundation became a generous grantor in 2016. It was pretty awesome to have folks like Laura Andreessen support me as a mentor over the years as The COMMIT Foundation has grown.
Q: I know as women in business, in foundations, companies, whatever it might be, that we can sometimes be a little bit hard on ourselves or measure ourselves in a different way. I'm curious, for you, how do you define success for yourself?
A: It's interesting that in the question you mention that, as women, we tend to be a bit hard on ourselves. I am one of those women. I put a lot of pressure on myself to perform. I've had moments in my career where I've realized that my C is a lot of people's A but it takes me a while to get there. I need to give myself a bit of grace, but still have a tough time with that. I think as women, particularly those that fall into the category of A-type and overachiever, we want to be great partners at home, great moms if we are mothers, great friends, and great professionals. My husband said to me recently that it was one of the first things he noticed about me, that I wanted to give 100% to everything I do. Once you have children and you're a C-level executive, the math just doesn't add up.
How do I define success? I recently listened to a lady speak who I thoroughly enjoyed listening to; she was a Cambodian refugee that came to the United States and became a doctor, a really impressive woman who combated the opioid epidemic in Louisiana. She said at the end of every day she asks herself three questions: "Did I have an impact? Did I treat people well? Are the people I love happy?" It was the last question that punched me in the gut because so many times I think if I put a square meal on the table or in their lunch boxes , or they use their manners, or their outfits look nice, I've done my job. But, if at the end of every day, you can honestly say the people you love are happy, that's pretty powerful.
I would love to learn how to give myself more grace in the midst of all the work, but I certainly hold a pretty high bar for myself. I don't know if you've read the book, Principles by Ray Dalio, but I also take great pride in being part of the percent that's moving the world forward. I think just knowing that I get out there every day and throw everything I've got at what comes my way - well, that's part of my success equation.
Q: Along your journey as you've done The COMMIT Foundation and all the other things you've done, what would you say is the most important skill that you've developed?
A: The most important skill that I've developed is the ability to connect with people. I didn't realize until 2013 how my being a high extrovert got in my way. High extroverts care a lot about what other people think about them. They spend a lot of time thinking about what they're going to say rather than listening. I think once I realized how I was getting in my own way, I got so much better at truly connecting with people. By stopping to learn more about myself, I've been able to connect in a deep and present way. It's the whole notion of lead yourself first.
I was a Targeter in the Intelligence Community. People really fascinate me. Sometimes I say I used to hunt bad guys and now I hunt good guys. I truly enjoy understanding where people come from and what molds them and how people's advice and counsel to you is so indicative of their journey. I think if you can start by understanding where people come from as you get to know them, it really helps you understand whether their perspective really matters to you in the scheme of things. After all, advice is a form of nostalgia.
Q: This is going to be a really hard one for you because there are clearly so many great things coming out of this, but what's been the greatest reward in the choices you've made through The COMMIT Foundation, specifically?
A: This is where I get sort of choked up because the first thing that comes to my mind is setting a good example for my kids. I talk about grace and how I know I need to have more for myself, but I struggle. One of my kids gives me a lot of grief for all the travel and work I have. It's tough because I believe it's important to set an example for your children about the type of parent, spouse and professional they can be.
I lost my brother to cancer last year. My brother and I both ended up in careers of service to others. I know that comes from our parents. I think the greatest reward I've had is learning how extremely resilient we all are. I've learned that I've had a lot of transitions and I've always landed on my feet. I just think the greatest reward of it all is being resilient and helping people.
Then also, at the end of the day, my legacy is my kids, right, and what they do. Just being able to show my children, particularly in today's world that thinking that you're at the center of the universe isn't the right trend in our country and that by serving others and really leaning into being a part of that 10% that makes the world better, that's a reward for me.
Q: I do have a follow-up question to that. Thinking about our generation, women running businesses more, starting companies, starting nonprofits more, we're just in a new time of the world. With that, how do you feel about when your kids are hard on you over it? Is it our responsibility to do it anyways? Should we cave to those pressures? What do you do with all that?
A: I think one of the best books that I've read about this is the book I Know How She Does It by Laura Vanderkam, which has sound advice. I wish someone had given me it before I had kids. There's a lot of data, for example, women that take themselves out of the workforce, unfortunately, their salary is 38% less when they try to re-enter. Really, being thoughtful about how you might give in one way as opposed to another is critical. It's a little different than the traditional "Lean In" counsel; it's more about an ebb and a flow of what's going on in your life. When I left the Intelligence Community, I was on the path to be a director of an intelligence agency having been extremely fortunate to have nine years of mentorship, opportunity and deep professional work. I was sitting on that stage and didn't want to leave. But, I took six international trips between month three and ten of my second child's life and knew something had to give or my kids weren't going to know who I was. I started my own company then. Within three months, I had six diverse clients. I was learning on the fly, many times had no idea what I was doing, but I needed to be my own boss to create more autonomy and balance. I had a mentor tell me, "it's never going to be right: full-time, part-time, or stay-at-home - you're always going to feel like something's off."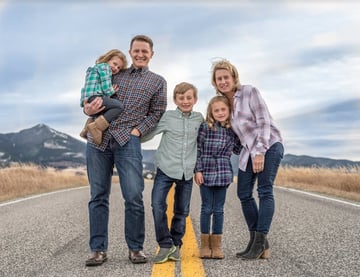 I also think it's really important to note you can have impact in a lot of ways. I tell our service members this. It's hard when you've been, let's say, after 9/11, fighting on behalf of the country and taking it to the bad guys and then you have to pivot and find a new mission that resonates. But, you can serve this country in so many different ways, even just raising your children well. I've learned to stop and take a deep breath when it gets tough. When your kids get to a certain age, have an adult conversation with them so they understand what you're doing, so that they understand why you get up and do what you do every day. We beat ourselves up so much as mothers, but to come back to that book, I Know How She Does It, there are these moments where you can focus on the quality of the time that you spend with your kids rather than the quantity. That can be hard, too. I think the best way to navigate through all that is to have presence. I think that's probably the most sound advice, to be where you are.
Q: One last question: What do you want to learn from a community of peers?
A: I would love to be mentored on how to have more grace for myself. I'd also love to hear more great examples of truly equal co-parenting because I think it's hard. I grew up in the South and my Mom worked full-time. She was a teacher and she owned a gift shop. Certainly where I grew up, there were standards and expectations around what a woman was. I remember specifically when 9/11 happened and I decided to move to Washington, a woman said to me, "Well, why on Earth would you do that, Anne Meree? We have men to do that," which just put even more fire in my belly to go get after it. Particularly if you set out early on in your marriage as being the mom who wanted to do it all, how do you dial that back a little bit and encourage your partner to meet you halfway? I think it's hard. You've got more women that are working C-suite jobs and full-time jobs. Grace for yourself and how to dial back the A-type mom so that your husband meets you halfway - those are the two things I would love to learn from my peers.
About Fundid
Fundid is driven by a mission to empower business owners on their growth journeys by simplifying business finance & access to capital.
We spend our time thinking about what the world would look like if the 80% of businesses that have under 10 employees had access to the capital they needed to grow and thrive. We're solving this with our Business Capital, Business-Building Card, and Resources that include our business Grant Match Program.