Tips for Winning a Business Grant from Aspen Cierra Photography
Join our platform to access business grants, capital, and growth resources.
Have you been applying for grant after grant but not having any luck obtaining one to support your business growth? You're not alone! Applying for grants is a competitive process and requires some additional time. But you may have realized that grants could be just the answer you've been looking for to access vital funds without needing to take on debt or even dipping into savings to grow your business.
Although getting a business grant can be a competitive process, they are possible to win! There are plenty of resources available for making sure you can put together an application that stands out from the others to ultimately get approved. We interviewed Aspen Cierra Evans, who recently was awarded a $10,000 grant for her business, and compiled some of her top tips below for winning a business grant!
Get to Know Aspen Cierra Photography
Aspen Cierra Evans is a photographer and beauty & travel content creator based in both Los Angeles and Atlanta. She is a second-generation Belizean-American that loves photography, skincare, and travel and shares those passions through her artwork.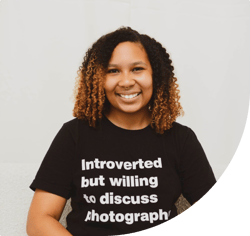 She started doing photography professionally when she graduated from art school in 2016. She started her photography business because she knew she wanted to be a photographer for magazines and brands and that an in-house product photography job wasn't going to cut it for her.
"I knew that ultimately being my own boss and owning my own business would be the best fit for me creatively and mentally. Controlling my own schedule and workload was a big driving factor in the decision to continue entrepreneurship full-time. It's been a slow and steady race, but this year has been my biggest year for growth."
Aspen's Tips for Winning a Business Grant
Aspen was awarded a $10,000 grant last fall and plans on getting new camera equipment that she has been long overdue to replace.
"I've had the same camera for a decade and have just been renting other things I've needed for certain client work. Now is the time to reinvest in my business and get up to speed."
Tip #1: If you are a Solopreneur, Consider Registering Your Business as an LLC
As a solopreneur that wasn't registered, Aspen found it harder to qualify for business grants. She has since registered her business as an LLC and is hoping that now it will be easier to get business grants and additional funding.
"Before, I would just apply for creative grants because those didn't require you to be a formalized business."
What is an LLC?
A Limited Liability Company (LLC) is a legal business entity formed at the state level. Unlike a sole proprietorship, the LLC's legal identity exists separately from its owners. As a result, the owners are not personally responsible for any business debts or liabilities.
LLC requirements do vary by state, but companies like Doola or Zen Business make it quick and easy to obtain your LLC! To set up an LLC, you'll need to file a certificate of organization with your state. You will also need to draw up an LLC operating agreement to outline the company member's rights and responsibilities. Once you've drawn up this agreement, you're expected to file forms with your state agency and pay the state filing fee.
Related Reading: LLC vs. Sole Proprietor, Which is Best for my Business?
Tip #2: Keep Track of the Grants you are Applying for
"I forgot I applied for this grant back in August and almost thought it was a scam because I got a text from the organization until I checked my email."
Keeping track of the business grants you are applying for is important, as the grant approval process can often be a lengthy and complex endeavor. By staying organized and up-to-date with your applications, you can follow up with the respective organizations after the deadlines have passed to inquire about the progress of your submissions, demonstrate continued interest, and potentially seek any further opportunities for funding.
Additionally, by maintaining a thorough record of the grants you apply for, you can prevent yourself from accidentally missing out on submitting a crucial application that could make or break your business's growth. By being proactive and organized, you can stay one step ahead and increase your likelihood of achieving your business goals through grant funding.
Tip #3: Apply, apply, apply!
There is never a guarantee that when applying for business grants, you will be awarded one. However, that should not deter anyone from keeping their spirits up and seeking feedback when declined. Applying for grants, again and again, can do wonders for your business growth — as long you make sure to apply with effective applications each time.
Every application is another opportunity to strengthen your proposal until, one day, your application is accepted! You never know when the lucky break could come — so keep on applying, and it's likely that all of your hard work will pay off soon enough!
"Sometimes it just takes that one win in order for you to gain some confidence. I've won small grants of $500 but nothing as large as this one! This definitely has lit a fire on my back to apply for the big grants in 2023, so I can invest even more into my business. I would love to be able to go to a few industry conferences and hone my skills, as well as hire a few contractors to help grow my business."
Start Your Search for Business Grants!
At Fundid, we know that finding grants can be time-consuming - and that your time is valuable. That's why we created the Grant Marketplace. Every week our team will bring you new business grant finds to the Grant Marketplace so you can have a central place to search for business grants. Gone are the days of endless Google searches and missed deadlines! Start saving time when searching for grants, and create your free Fundid account today.
About Fundid
Fundid is driven by a mission to empower business owners on their growth journeys by simplifying business finance & access to capital.
We spend our time thinking about what the world would look like if the 80% of businesses that have under 10 employees had access to the capital they needed to grow and thrive. We're solving this with our Business Capital, Business-Building Card, and Resources that include our business Grant Match Program.